1. Have a 'Go-To' Binder or File
Keeping everything straight with a move requires a lot of information. What number do you call to switch accounts over for utilities or the internet? What about that list of moving supplies will you need?
Keeping a "moving binder" or file of some sort will definitely help keep things organized. Store any to-do lists, important contact numbers, and other information in that go-to spot. That way, when it comes time to pack, move, and unpack, essential information doesn't get misplaced or buried in a place that's hard to find.
2. Formulate a Moving Plan
If you leave packing up your house to the last minute, you will more than likely find yourself pulling most if not all of your hair out in the process. To minimize such excessive hair loss, consider putting together a plan on how you are going to pack.
Pick which items can sit in boxes for a while to pack first, and make a list of the order you will pack everything in. Decide which rooms will be the most essential to start with first and which can wait until last. Have a system in place and create reasonable small goals for yourself as deadlines for when things should be going in a box.
3. Separate and Donate
Moving homes is a great opportunity to sort out items in your home that are no longer needed. Start writing a list of items or furniture that you feel would do better with another family (or the local garbage dump) instead of yours. And take the time well ahead of your move to start getting those items out of your house so they won't be in the way when it's time to pack.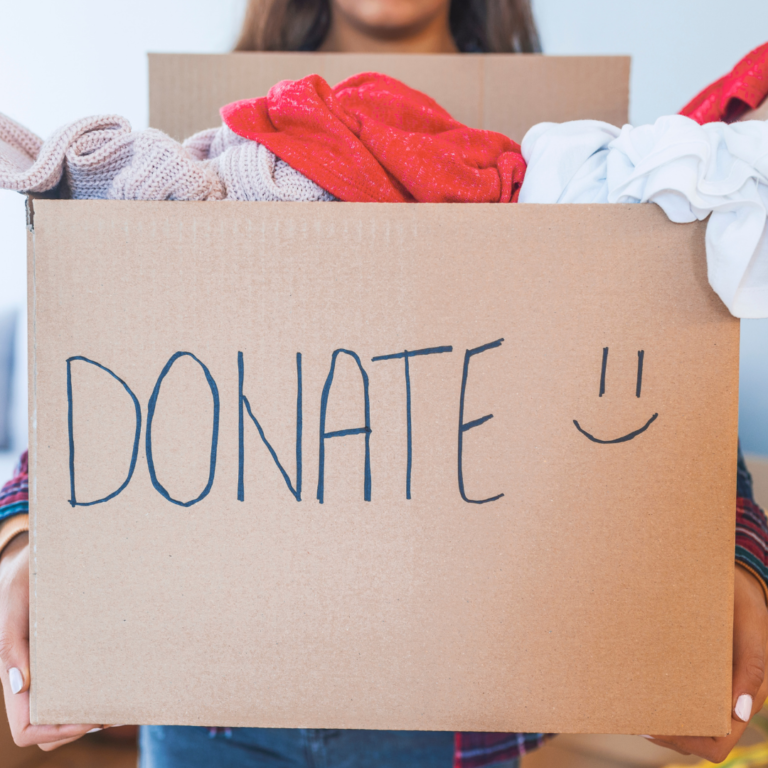 4. Organize the Layout of Your New Home
Moving will be a lot less stressful if you have a floorplan ready to go. Make a plan as to where your furniture will go and the placement in each room. Have an idea ahead of time of how much will go into one space so that moving items in is a fluid process that doesn't take up a lot of time.
Some also like to set aside a given space or room to stack boxes that don't need to be unpacked immediately. If that is a game plan that works for you, make sure you have enough space to store everything and have a definitive idea in mind of when you will get to unpacking everything.
5. Colour Coordinate Your Boxes
Labeling your boxes is usually a given when it comes to knowing how to stay organized during a move. However, sometimes just labeling boxes as 'kids stuff' or 'toys' does not help in knowing if those boxes need to be deposited in the kids' room, the den, or elsewhere.
Colour coordination is key to this predicament. Write up a colour code for each room then mark each box with the colour it belongs to. You can use coloured tape or markers to easily identify which box goes where.
6. Pack a Moving Day Survival Kit
Once everything has been moved into a new home, most welcome a relaxing shower and a warm bed to sleep in. So how do you ensure you have what you need on that first day in your new home?
One of the best moving tips around, having your essentials nearby and handy before, during, and after a big move will make life so much easier. Items such as a couple of clothing changes, a set of clean sheets ready to make the bed, and a few bathroom essentials (soap, shampoo, toilet paper, clean towels) can be a welcome sight at the end of moving boxes all day long.
Pack these in a large suitcase or a very well-labeled box. And when moving day arrives, transport these things in your car if possible instead of the moving van so it doesn't get lost or buried in the shuffle.
7. Organize Small, Annoying Items
Part of a less hectic move involves setting up big things like the bed, TV, and electronics. But necessary to all those big things are all the annoying little things that like to get tangled, lost, or misplaced during a move.
So, wrap up any cords with a twisty-tie or rubber band, put them in a sealable plastic baggy, and clearly label each baggy so you know what goes where. Any screws, nuts, or bolts that go with furniture can be managed the same way as well.
Some like to tape the sealed baggy directly to the furniture in a place where it won't easily get knocked off. Others put all these various parts in a box where it will be easy to sort through and find what you need when you're setting up a house. But either way, having these small parts clearly labeled will help.
8. Analyze the Total Cost of the Move
There is nothing more stressful to a move than an unexpected sticker shock. Do your homework ahead of time so you have a good idea of how much everything will cost. Then when it comes time to reserve what you'll need, you will know what to expect.
Following Moving Organization Tips Minimizes Stress
It can be tricky to know how to keep things organized when moving, but it can be done. So take a deep breath, stay focused on the end goal, and follow these simple moving organization tips. Before you know it, the move will be over and you'll be enjoying home sweet home.
Contributed by: www.thestoragebox.com
---