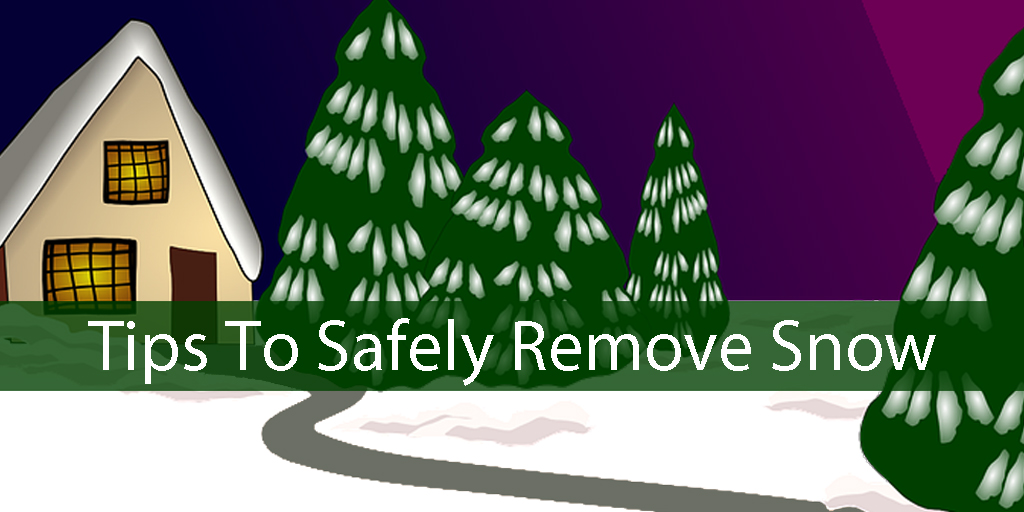 When Do You Start?
Deciding when to clear snow is not as easy to answer as it seems. The temptation is to begin clearing walkways and vehicles when the first layer of snow develops, but additional snowfall will only negate your efforts and you will be starting all over again.
What's worse is waiting too long. Pedestrian-packed or snow packed into your driveway from the road maintenance crews forms ice that is difficult to shovel. More snow means higher snowbanks, which makes it difficult to reach with the snow shovel or snow blower.
It is best to wait until the snowfall has completely stopped.
The Right Tools For The Job
Show Shovel: Choose small shovels because large ones can be hard to lift. Ergonomically correct curved shovels allow you to reach lower without bending down as far.
Walkway Ice Melt: After shoveling, you can use an environmentally friendly magnesium chloride-based ice melt to protect your walkway and plants. Sprinkle it onto ice patches.
Snow Brush/Ice Scraper: These are handy tools for brushing away light snow from surfaces, such as your car. Consider one with a telescopic handle for those hard to reach areas.
Snow Blowers: Snow blowers are the best option for places that receive heavy snow or for anyone who has large areas to clear.
The Proper Technique
Give yourself enough time for shoveling. Attempting to do it quickly means possible back injury, muscle strain and poor results. Snow shoveling is a form of exercise and requires exertion. Having appropriate equipment and time can make the task more enjoyable.
Doctors recommend you stretch your lower back , legs, and arms before you begin. Make sure that you dress appropriately!
For snow that is one foot deep or less:
Bend knees and dip moderately low.
Do your best to scrape from under the snow.
Keep your lower back as straight as possible and remember to lift with your legs.
Avoid twisting to the side. Turn your entire body when you toss the snow.
For snow higher than one foot, break the snow and bring it down to ground level.
Prepare your body with some warm up exercises
Carefully consider which type of shovel you purchase
Take breaks
Stay hydrated
Layer up
Choose waterproof gloves
Clearing the Snow Off Your Home's Roof
Roofs were designed to handle a reasonable amount of snow. Typically, it is not necessary to clear snow from your roof.
However, there are exceptions such as a heavy amount of snow has fallen, or you are concerned about snow falling onto visitors or customers.
There are a few products that have been designed for roof clearing.
The Avalanche
A patented tool with a 16-foot-long handle ,such as the Avalanche, allows you to remain on the ground while removing snow. You push the wheeled device onto the roof, forcing it into the snow. A flexible plastic slide follows the device, allowing the snow to slide off of the roof.
Snow Rake
Snow rakes are far less expensive and work on the same principle, without the plastic slide and wheels. At one end of a telescoping aluminum handle is a plastic head that acts much like a garden hoe. You raise the rake and chop down into the snow, immediately pulling back to force the snow off of the roof.
Snow rakes require more physical effort than the Avalanche because there is no plastic slide to ease the snow's path down the roof.
NOTE: You should never climb up on a slippy roof to remove snow
Clearing Your Vehicle Of Snow
Do not use hot water on your car! Instead, try these safer and more effective methods:
1. When clearing your car start at the roof and work downward.
2. A plastic dust pan can be used to clear lighter areas of snow.
3. Turn on the defroster for several minutes to make clearing an icy windshield easier.
Clearing Driveways Of Different Types
Change your technique to match the type of driveway you have:
Concrete: Consider using oriented strand board as a "snow plow" to push the snow away. This method works well with light snow and can prevent damage to the concrete.
Asphalt: Remove as much snow as possible using a shovel. It can also be helpful to apply ice melt to the lowest layer of remaining snow to prevent slipping.
Gravel: Try to shovel a couple of inches above the gravel and just remove the top layer of snow.
Snow on your property is no problem to clear if you use safe and efficient methods!
---
---