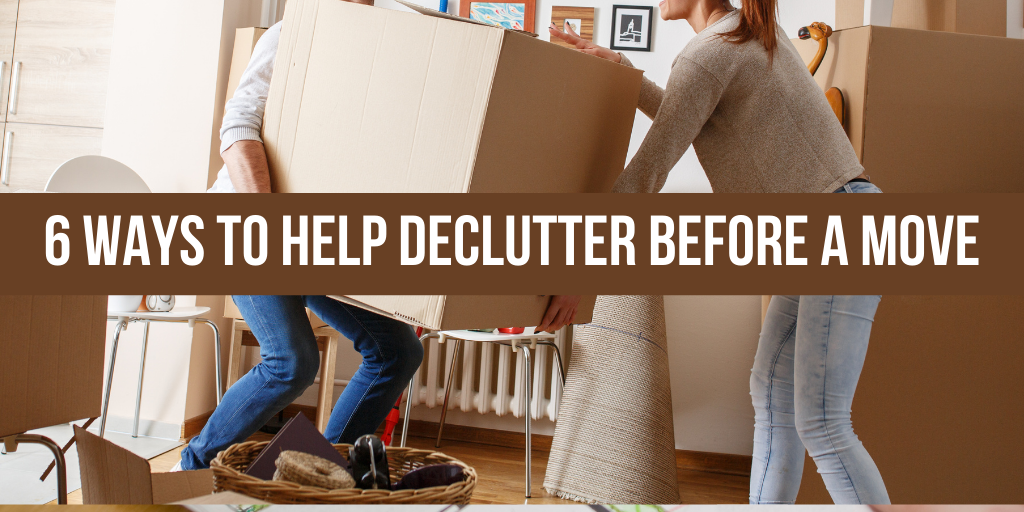 Are you moving soon and looking for ways to simplify the moving process? There's no doubt that moving can be a very stressful event. Luckily, there are some things you can do to make the moving process less stressful. One of the best things you can do to ease your stress is to declutter before you move. But, how do you declutter properly?
Check out this guide to discover how to declutter your home before you move. 
1. Start Early
Decluttering typically takes a lot longer than you think. To make sure you're not crammed for time, we suggest starting the decluttering process around 6 months before you move.
Keep in mind that in order to properly declutter, you need to go through every single item in your home. So, it's going to take more than a weekend to get through everything.
2. Put Things in Piles
When decluttering your home, one of the best ways to keep things organized is to put your items in piles. You should have five main piles for your decluttering process: a trash pile, a keep pile, a donation pile, a selling pile, and a recycling pile.
When gathering items to be donated, make sure you check with your local donation center to figure out what items they can and cannot take. Also, keep in mind that in order to donate an item, it still needs to be in fairly decent condition.
For recycled items, make sure you look for a recycling symbol. Typically, these are located on the bottom of the item. If you're not sure if something can be recycled, try Googling it.
3. Go Room by Room
One of the best ways to declutter is to tackle your home room by room. This way, you won't feel overwhelmed by everything you need to get rid of. Here's what you should know about decluttering each room:
Kitchen
Here are some of the biggest culprits that we tend to hoard in our kitchens:
Expired food (especially pantry items and condiments)
Plastic containers and lids
Cookware
Coffee tumblers and water bottles
Old cookbooks
Kitchen tools and utensils
When decluttering your kitchen, it's a good idea to take everything out of the cabinets so you can see what you have. Over the years, we tend to buy duplicates of things, especially when it comes to cookware. If you find duplicate items, then you'll need to part ways with one of them.
Also, before throwing out Tupperware or plastic lids, check the bottom of the items to see if they're recyclable.
Living Room
In our living rooms, we tend to accumulate a lot of books, DVDs, magazines, and kids' and pet toys.
Luckily, many of these items can be donated. Also, keep in mind that paperback books and magazines can be recycled, so don't just throw them in the trash. 
Bedroom
The biggest area of concern in your bedroom is obviously going to be your closet. For many people, parting with clothing that has sentimental value or that has only been gently worn can be tough.
Luckily, there's a method that can help you decide if a clothing item or accessory is really worth keeping. All you need to do is hang up your clothes in your closet all facing one direction. When you wear something, hang it back up in the other direction after you wash it.
For all of the items that are facing in their original direction after one season, donate them. You can do the same thing with your jewelry and accessories by starting them in one spot and moving them to another after wearing them.
Bathroom
There's a good chance you have old makeup brushes, medicine, beauty supplies, and other toiletries accumulating in your bathroom. Take everything out of your bathroom drawers and place them on the counter to figure out what's expired and what you no longer use.
4. Don't Buy New Items Until You Move
While you may be excited to furnish your new place, hold off on buying items until you move.
After you unpack all of your stuff in your new place, there's a good chance you'll realize that some of the things that you'd planned to buy you really don't need. Plus, you'll want to get a feel for your new space before you make any major decor decisions.
5. Rent a Storage Unit
Renting a storage unit during your move can make the decluttering process a lot easier.
When you begin the decluttering process, there's no doubt that you're going to start accumulating a lot of boxes-both for the things you plan to get rid of and the things you plan to keep.
These boxes can be a huge eyesore to potential buyers who come and look at your home. Renting a storage unit can help keep these boxes out of the way and keep your home looking tidy.
Also, if you have certain items that you're planning to get rid of by selling, a storage unit gives you a place to keep these items while you search for their new home.
6. Rethink Your Decluttering Mindset
When decluttering a home, we tend to ask ourselves, "Should I get rid of this item?" However, there's a better way to phrase this question.
Instead, you should ask yourself, "Do I want to deal with packing, moving, and unpacking this item in my beautiful home?" By asking the question in this manner, you'll likely realize that there are many items that you own that simply aren't worth moving.
Declutter Before a Move: Are You Ready to Declutter?
Now that you know how to declutter before a move, it's time to start the process. Before you know it, you'll be all moved into your new home surrounded by things that you need and love.
---
Contributed by: www.thestoragebox.com/
---