Spring is the perfect time to perk-up your home's curb appeal. To get started, it's best that you go outdoors and take a walk around your home and property to inspect what may need to be done. Try to see your home through the eyes of potential homebuyers. What would they notice as needing some love and attention?
When you inspect the exterior of your home you should inspect it from all sides, and from the roof down. While you are walking around the property you may find it helpful to take notes, then gather your gear and get started!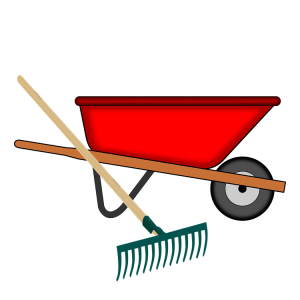 Clean It Up
Remove any old building materials, discarded household items, broken toys and scrap from the yard
Find a space to store garbage cans at the rear of your home
Put away items that are not in use (toys, bikes, tools, etc.)
Organize outdoor furniture
Clean-up pet messes
Rake up leaves and debris
Mow grass, edge yard and pull weeds
Trim bushes and prune trees
Power wash sidewalks, driveway, patios and porch
Wash siding
Clean windows, screens and doors
Check outdoor lighting fixtures and clean
Make Repairs
paint, straighten or replace house numbers
fix the doorbell
replace any damaged window/door screens
replace all burnt-out lightbulbs
patch and seal driveway and walkways
repair damaged gutters, shutters and awnings
replace damaged deck boards
repair broken fence boards and gates
repair any damaged siding
fix or replace patio stones or pavers
How To Seal An Asphalt Driveway
How To Repair Sagging Fence Gates
Spruce It Up
touch up paint on window and door trim
paint your front door and add a pop of colour
add planter pots to patio and porch
spread mulch in your gardens
consider a new mailbox
replace old lighting fixture by front door
add an attractive door mat
plant a new tree
add some window boxes
stain or paint porch or deck
replace porch accents
add a birdhouse or feeder to your yard
18 Colorful Gardening Ideas for Window Boxes
How to Paint the Exterior of the Front Door
Thanks so much for taking the time to read my Blog. If you require more information on buying or selling a home please give me a call. I was born in and am native to Chatham, Ontario. I began my real estate career in 1989, I have been a member of the MLS Chatham-Kent Real Estate Board since 1989. I joined the Royal LePage Sales Team in 2001. I've been helping my clients buy and sell homes in the Chatham-Kent area for over 25 years. Give me a call today at (519) 401-5470 for a free, no-obligation consultation.
Thanks, Deb Rhodes
Look me up on Twitter @ckhomes4sale